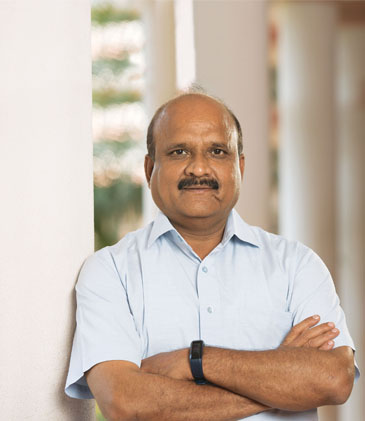 A Doyen in the field of education is the chief mentor of Pragati group of educational institutions. His in-depth and valuable experience and expertise in academics is the key driving force in shaping Pragati Engineering College which imparts quality education to the students on par with international standards. He is renowned for his directorial skills and altruistic nature. He is highly committed to deliver the students high quality tuition, while carefully monitoring their academic and social welfare.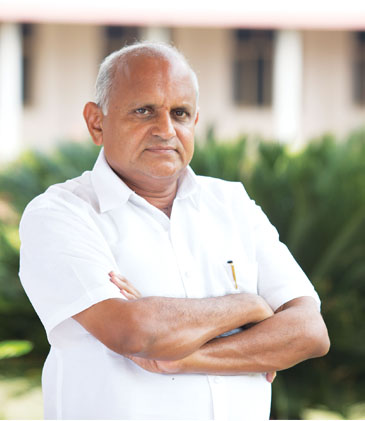 Mr. M.V. Haranatha Babu M.Sc, M.Phil., Director, is well known for his benevolence and dedication towards work. He always strives his best to stimulate students' natural curiosity and enable ideas to flourish through dialogue and debate.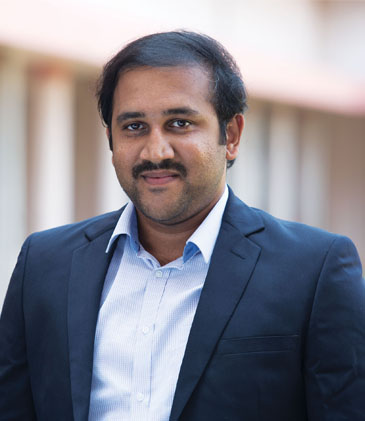 We have come a long way since 1989. Pragati Educational Institutions under Gayatri Educational Society has been imparting quality education for the past 25yrs.Established in 2001, Pragati Engineering College has been a pearl in Pragati group. It's the students who have made Pragati Engineering college an amazing place. We are proud that we are recognized as one of the best Private engineering institutions in the state. But we have yet a long way to go – dreams to fulfill, heights to reach and responsibilities to carry out. We are in the growing phase and let's put our hands together to take Pragati to greater heights. I am honored to be a part of this wonderful institute.
Education is to Inspire, not to Instruct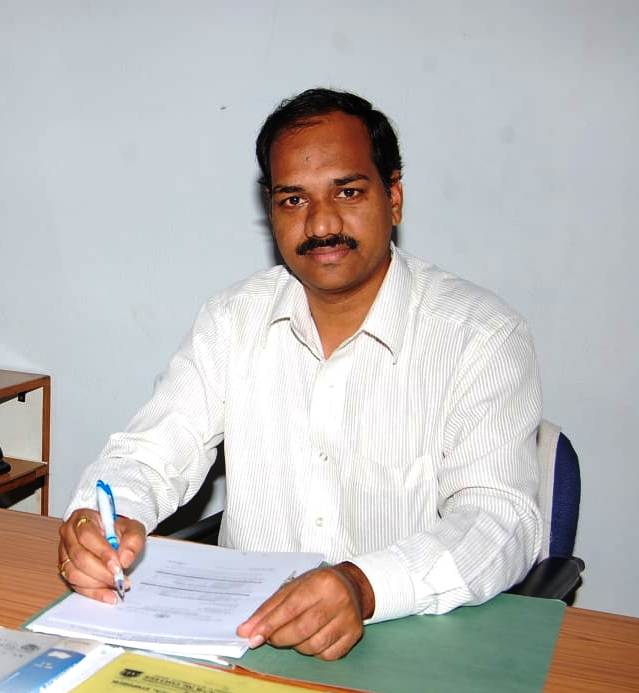 Name, Contact No
Dr. K. Satyanarayana, 9618787861
Designation
Professor of EEE and Principal
Date of Joining the Institution
27.06.2003
Qualifications with Class/Grade
PG: First Class with Distinction

 

Ph.D: Awarded in 2013

Total Experience in Years
Teaching: 20 Years

 

Industry: 04 Years

Research: 06 Years

Papers published in Journals
National: 02

 

International: 38

Papers presented in Conferences
National: 04

 

International: 02

PhD: Give field & University
Performance improvement techniques for vector-controlled Induction Motor drives

 

University: JNTUK

 

 

PhDs/Projects Guided

Ph.D guiding :01

 

Master's level: 14

UG level: 25

Professional Memberships
1. Life member of Indian Society for Technical Education

 

2. MIE Life member of Institute of Engineers (INDIA)

3. Charted Engineer – Institute of Engineers (INDIA)

Research and Development activities completed
1.      AICTE/MODROBS: Rs.11,06,000/- Completed

 

2.      AICTE/STTP: Rs.1,80,000 /- Completed

3.      AICTE-ISTE Refresher Programs: Rs.2,90,000/- Completed

Awards
1.      BEST TEACHER AWARDEE for the Academic Year 2009-10.

 

2.      Best   Research   Paper Award   in   2011   in   National Conference held at JNTUK, Kakinada.

3.      Best   Research   Paper Award   in   2020   in   National Conference held at Andhra University, Visakhapatnam.

FDPs/Workshops Attended
 48
FDPs /Workshops organized
 12
Interaction with Professional Institutions
1.      Taylor and Francis (Electric Power Components & Systems)

 

2.      International Journal of Engineering and Advanced Technology-IJEAT

3.      International Journal of Scientific & Engineering Research-IJSER.

4.      International Journal of Multidisciplinary Research and Modern Education-IJMRME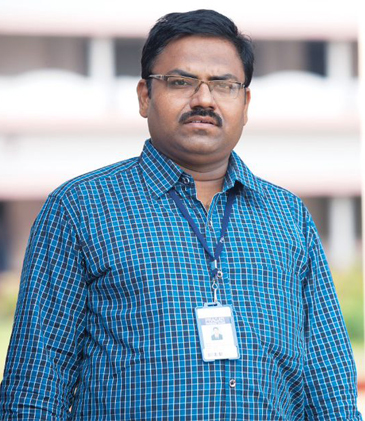 He did Bachelor of Engineering in Electrical and Electronics Engineering from S.R.K.R.Engineering College, Bhimavaram affiliated to Andhra University in 2001. He completed Master of Technology in Advanced Power Systems from J.N.T.U. College of Engineering(A), Kakinada affiliated to JNTU, Hyderabad in 2004. He did Doctor of Philosophy in Electrical and Electronics Engineering from JNTUK, Kakinada in 2015. He received JNTUK BEST TEACHER AWARD for the Academic Year 2012-13.
He has more than 17 years of teaching experience which includes 12 years of research experience. He worked in different capacities- Assistant Professor, Associate Professor and presently he is working as a Professor of Electrical & Electronics Engineering & Dean- Administration, Pragati Engineering College, Surampalem, A.P.He is member of College Academic Council and Finance Committee. He discharged several responsibilities like NBA, NAAC, Autonomous Coordinator and Convener/ member in several committees at College/ department level.
His research interests include Evolutionary Computing techniques and their application to Electrical Engineering, Power System Operation & Control, Power System Stability and Energy Management and Conservation. He presented more than 40 research papers in various International and National Journals and Conferences. He is a reviewer of International Journal Computers and Electrical Engineering of Elsevier Publishers, International Journal of Institution of Engineers (India):Series-B and International Energy Journal (IEJ) from Asian Institute of Technology.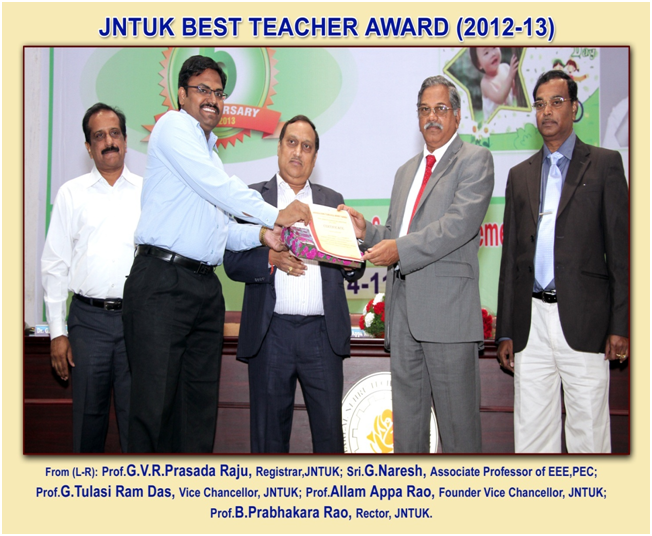 He secured Best Paper Presentation Awards for his technical papers from JNTU College of Engineering(A), Anantapur, AP, India in 2005 and GIST, Nellore, AP, India in 2014.

He is a member of IEEE(USA), ISTE and IACSIT.

He visited countries like Malaysia, Singapore, UAE and Nepal.