Pragati Engineering College started an undergraduate (B.Tech.) program in Mechanical Engineering in the year 2004, in order to meet the educational needs of the K.G. basin. The Department of Mechanical Engineering caters to the regional and global human resource requirements. The students of this department stood as college toppers in academics. The institution is located in the industrial corridor and therefore the students and teachers of the department get benefited through Industry-Institute-Interaction.
The department is committed to strengthen the academic, research and functional abilities of the students, in order to enable them to stand as competent and versatile professionals after graduation. The department strives to enhance research activity in the department, thereby creating competent intellectual resources to the students.
The department building occupies an area of 27,500 SFT and houses well-equipped laboratories. The department conducts various events for revealing scientific, engineering, and technological advances to students. The students participate in events and national level contests, conducted by various institutes. The members of faculty have completed sponsored research projects, amounting to a net worth of Rs. 21 lakhs, during the past three years.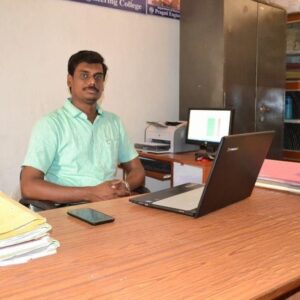 Dr. Avinash Gudimetla M.Tech., Ph.D., MIE, SMISME  , He did his B.Tech in the domain of Mechanical Engineering. He did his masters in the specialization of CAD/CAM. He was awarded his doctorate in the area of composite materials by Jawaharlal Nehru technological University Kakinada, Kakinada. He is having more than 15 years of teaching experience in which he has taught more than 10 courses to UG and PG students at Engineering College. He also has administrative experience in which he has worked under various capacities and prominent among them are Chairmam-BoS, Assistant controller of Examinations and Head of the Department. He has also acted as Associate Chief Superintendent for various Competitive Examinations, conducted by the Government. During his tenure, he has been organising good number of Faculty Development Programmes, Workshops, Guest Lectures, Industrial Visits and Webinars. He is having more than 30 publications in various reputed National and International Journals. He has participated in various National and International Conferences. He is a reviewer of many journals also. He is member of various professional bodies like MIE, MIAENG and SMISME. Presently, he is working as Head of the Department of Mechanical Engineering and is also a member of various committees at department level and also at college level.