The department has the following laboratories to meet the requirements of ECE and other branches like CSE, IT, EEE and Mechanical Engineering. Most of the laboratories in the department are well equipped with the latest software's and technologies under TEQIP, so as to provide required infrastructures to carry in-house projects for final year students as well as R&D activities.
Electronic Devices and Circuits Laboratory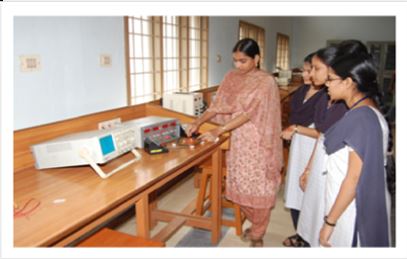 This laboratory enables the students of II year students to gain practical experience in connecting circuits with discrete components and testing the circuits.Major facilities/equipments:CRO,Function generators, Electronic Circuits Trainer kits & other lab supporting equipment.
IC and PDC Laboratory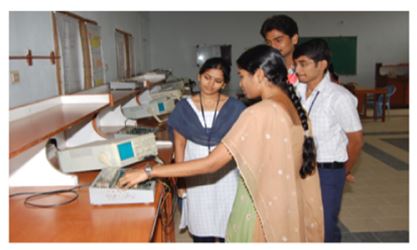 This laboratory enables the students of II & III year to study the various applications of Analog (Linear/Non-linear) and Digital ICs.Major facilities/equipments:Digital IC Trainer kits, Linear IC Trainer Kits, IC Tester.
ECAD Laboratory
This lab enables the students of III & IV year to have practical experience on front-end VLSI design using VHDL/Verilog, synthesis and implementation on FPGA target device.Major facilities/equipments: ORCAD (P-SPICE), TINAPRO, ISE XILINX 9.2 VERSION, VHDL/Verilog Simulation, Sinplify Pro Synthesis software, FPGA/CPLD Universal Mother Board.
Micro-processors and Micro-controllers Laboratory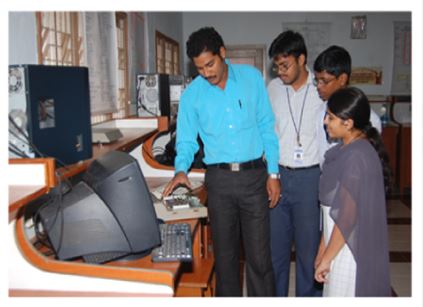 This laboratory is equipped with 8085, 8086 and 8051 trainer kits to enable the students of various branches to learn assembly language programming and interfacing.
Major facilities/equipments: 8085 based trainer kits (5), 8086 based trainer kits (21) and 8051 based trainer kits (8),and necessary software packages.
Communication and Microwave Laboratory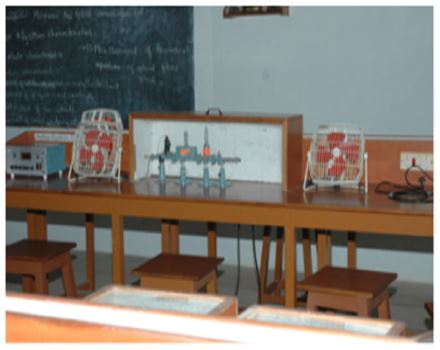 This laboratory is equipped with discrete components as well as trainer kits to perform various analog and digital modulation/demodulation schemes. This lab also provides various equipments for IV year student to perform experiments in the area of microwave and optical communications.
This lab is also equipped with software/trainer kits to perform experiments on latest technologies like GSM, CDMA, GPS and Rada Engineering. Major facilities/equipments: Basic communication trainer kits GSM, CDMA, GPS, Radar Trainer kits, DSO.
Digital Signal Processing Laboratory
Major facilities/equipments: Floating point / Fixed Point DSP Processor, CCS Full version software development tools, MATLAB Range Software, MATLAB Tools Boxes
Embedded Systems Laboratory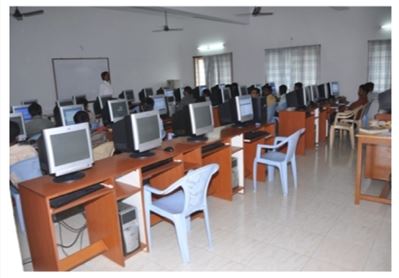 Major facilities/equipments: KEIL Software, Real time operating systems, ARM processors and interfacing software, PIC controllers.
S. No

Name of the laboratory

Floor area (sq.m)

Experiments

Courses for which the lab. is to be used and No. of students working/per week

Total No

No.per cycle

session/week

1
Electronic Devices & Circuits Lab
69.7
12
6
2
II-I ECE – 360 students/week

II-II EEE – 144Students/week

2
EDC Lab
69.7
12
6
2
II-I ME – 144 students /week
3
DLD Lab
69.7
12
6
2
II-I CSE – 216 students/week

II-I IT – 72 students/week

4
Electronic Circuit Analysis Lab
69.7
12
6
2
II-II ECE – 360 students/week
5
DICA & DSD Lab
69.7
12
6
2
III-I ECE- 288 Students/week
6
Pulse And Digital Circuits lab
69.7
12
6
2
III-I ECE- 288 Students/week
7
Integrated Circuit Applications Lab
69.7
12
6
2
III-I ECE- 288 Students/week
8
Analog Communications Lab
69.7
12
6
2
II-II ECE – 288 students/week
9
Digital Communications Lab
69.7
12
6
2
III-II ECE- 288 Students/week
10
Digital Signal Processing Lab
69.7
12
6
2
III-II ECE- 288 Students/week
11
VLSI Lab
69.7
12
6
2
IV-I ECE- 288 Students/week
12
Microprocessors & Microcontrollers Lab
69.7
12
6
2
III-II ECE- 288 Students/week

IV-I EEE- 144 Students/week

13
Networks Lab
69.7
12
6
2
II-I ECE – 288 Students / Week
14
Microwave & Optical Communication Lab
69.7
12
6
2
IV-I ECE- 288 Students/week