Dr. G. Naresh
He did Bachelor of Engineering in Electrical and Electronics Engineering from S.R.K.R.Engineering College, Bhimavaram affiliated to Andhra University in 2001. He completed Master of Technology in Advanced Power Systems from J.N.T.U. College of Engineering(A), Kakinada affiliated to JNTU, Hyderabad in 2004. He did Doctor of Philosophy in Electrical and Electronics Engineering from JNTUK, Kakinada in 2015. He received JNTUK BEST TEACHER AWARD for the Academic Year 2012-13.
He has more than 17 years of teaching experience which includes 12 years of research experience. He worked in different capacities- Assistant Professor, Associate Professor and presently he is working as a Professor of Electrical & Electronics Engineering & Dean- Administration, Pragati Engineering College, Surampalem, A.P.He is member of College Academic Council and Finance Committee. He discharged several responsibilities like NBA, NAAC, Autonomous Coordinator and Convener/ member in several committees at College/ department level.
His research interests include Evolutionary Computing techniques and their application to Electrical Engineering, Power System Operation & Control, Power System Stability and Energy Management and Conservation. He presented more than 40 research papers in various International and National Journals and Conferences. He is a reviewer of International Journal Computers and Electrical Engineering of Elsevier Publishers, International Journal of Institution of Engineers (India):Series-B and International Energy Journal (IEJ) from Asian Institute of Technology.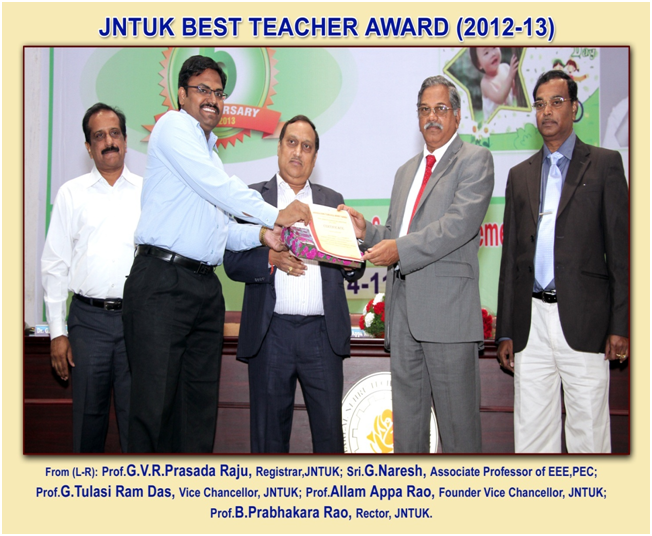 He secured Best Paper Presentation Awards for his technical papers from JNTU College of Engineering(A), Anantapur, AP, India in 2005 and GIST, Nellore, AP, India in 2014.

He is a member of IEEE(USA), ISTE and IACSIT.

He visited countries like Malaysia, Singapore, UAE and Nepal.