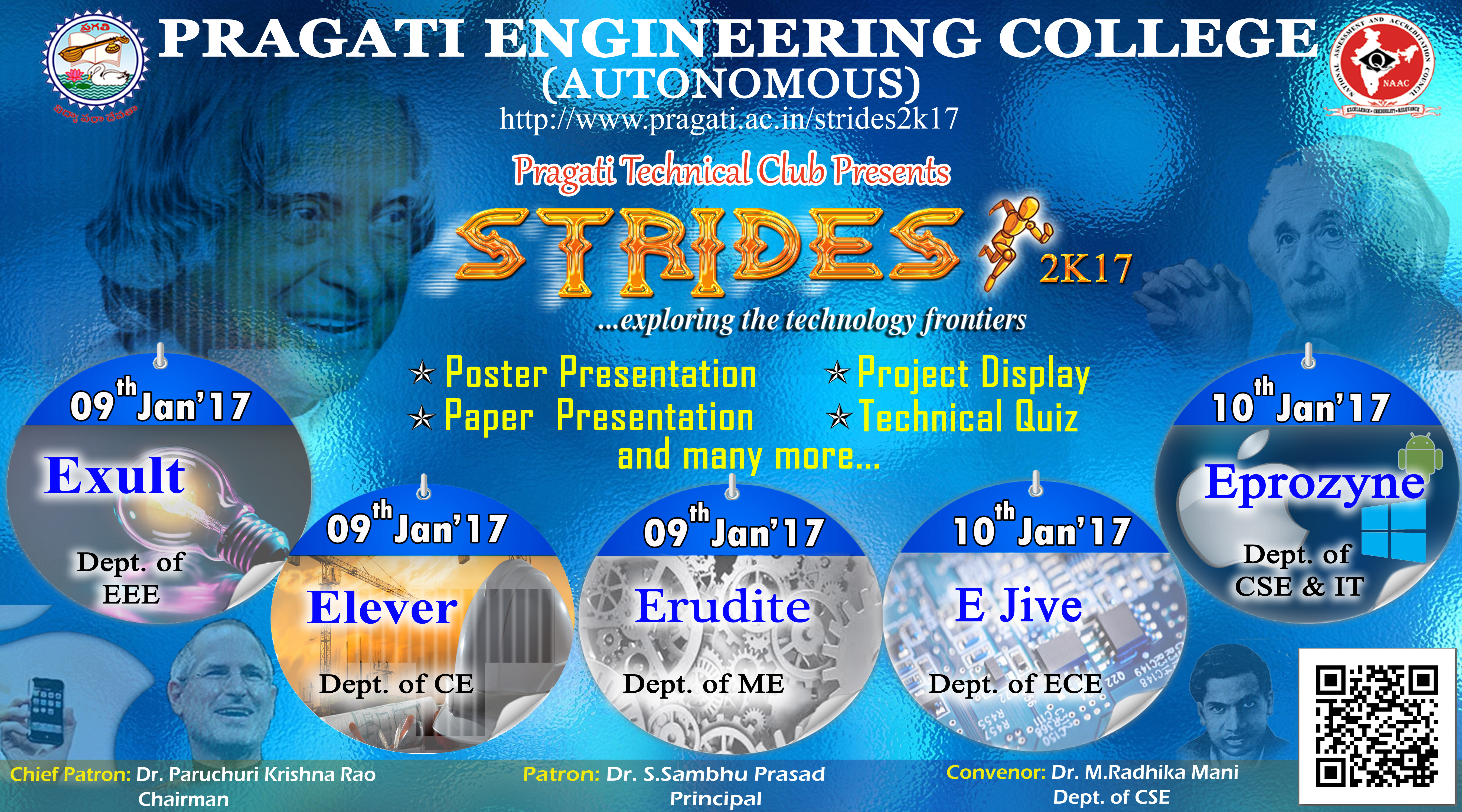 The annual mega event of the college is STRIDES. Every year STRIDES comes with lot of technology ,innovation, learning, competition and loads and loads of fun.
Experts from academia and industry share their knowledge via guest lectures and workshops. Besides, the regular Brain Factor (quiz), paper presentation contests, project contests provide an opportunity for exchange of ideas and keep up with the latest in technology . Apart from all these, a host of innovative spot events offers a colorful platform for young engineers to showcase their talents. These events are being organised by various depts. namely 'Elever' by Dept. of Civil; 'Exult' by Dept. of EEE; 'Erudite' by Dept. of ME; 'Ejive' by Dept. of ECE; and 'Data Connect' by Depts. of CSE, IT.
To add fun to these programmes, a cultural fest titled 'PRISM' is also conducted annually . Students exhibit their innate talents in the form of dances, songs, skills, etc. Competitions like Rangoli, Kite flying are also oraganised in a traditional way.
Elever
A National Level Technical Symposium "ELEVER" organizes by Department of Civil Engineering
[Click here]REPORT ON "ELEVER-2K17" UNDER STRIDES
Exult
A National Level Technical Symposium "EXULT" organizes by Department of Electrical & Electronics Engineering
[Click here]REPORT ON "EXULT-2K17" UNDER STRIDES
Erudite
A National Level Technical Symposium "ERUDITE" organizes by Department of Mechanical Engineering
[Click here]REPORT ON "ERUDITE-2K17" UNDER STRIDES
EJIVE
A National Level Technical Symposium "EJIVE" organizes by Department of Electronics & Communication Engineering
[Click here]REPORT ON "EJIVE-2K17" UNDER STRIDES
EPROZYNE
A National Level Technical Symposium "EPROZYNE" organizes by Department of Computer Science & Engineering and Department of Information Technology
[Click here]REPORT ON "EPROZYNE-2K17" UNDER STRIDES